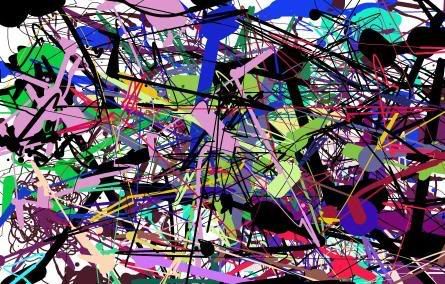 (painting by jackson pollack)
Wow...
Things have been crazy this last week. So busy I haven't had time to blog.
But I'm hoping to get back on track here soon.
In the mean time, let me give you the rundown of what's been going on in my life and my noggin'...
Birthday style!!
In honor of my recent celebration of 31 years on this earth, I give you just as many random tid bits...
1) We're looking at cars. Vans, specifically. And it isn't a fun process.
2) Emma has taken to the terrible two's prior to turning the trying age. Say that five times fast.
3) I ate sushi for my birthday and it was heavenly.
4) I'm late on accepting and nominating awards...my apologies to
Bri
and
Mandy
, but thank you both!!
5) I'm up to my ears in sewing aprons.
6) I'm also sewing Emma's Easter dress.
7) I have failed miserably at not consuming soda during Lent.
8) I praise Jesus that my salvation does not lie within the walls of a Dr. Pepper can.
9) On a more serious note, Palm Sunday was a thought provoking day...in church I read the part of a doubting criminal that hung beside of Jesus. My specific line, "Are you not the Christ? Save yourself and us all!" I found that part fitting seeing that I often doubt Him in my own life.
10) Many people are in my prayers right now.
11) I get to see my momma in four days and I couldn't be happier because of it.
12) I pat the baby in my sis-n-law's tummy yesterday and it took me back to when I pat my own pregnant belly. I'm getting the fever it seems...
13) Speaking of fever, I'm reading "Taking Charge of Your Fertility" and I've never felt more enlightened about womanhood then I feel now.
14) I don't say, "I'm proud of you" enough...to my husband, to my daughter, to my friends.
15) I constantly think about writing a book.
16) God constantly tells me to write a book, too.
17) I haven't listened yet.
18) Jon and I enjoyed a date night on Saturday and my favorite part was holding his hand.
19) I dropped Emma off at the sitter's this morning and she cried and cried (which is unusual). I wanted to quit my job and hold her forever.
20) I cried most of the service on Sunday...Jesus has a way of doing that to me. Thank you for loving me, Lord.
21) My best friend is coming next week and I get to meet her new little boy. I already love him so much and I have yet to lay eyes on him.
22) I wish I had an eye for style...both for myself and my home.
23) I'm meeting The Pioneer Woman on May 7th. If I could do a cartwheel, I'd do 50.
24) Emma calls the witches on Princess movies bad ladies.
25) Apparently the woman in front of us at Wal-Mart resembled a witch because Emma repeatedly yelled out, "Bad Lady, Bad Lady, Bad Lady!!"
26) I wanted to crawl in a hole and hide.
27) I don't like skinny jeans.
28) Having said that, last week I wore maternity pants and a maternity tank top on two separate occasions.
29) I'm not pregnant.
30) I repeat...I don't like skinny jeans.
31) My heart is blessed by those that have read this list in it's entirety!
Love ya'll!